Harpoon Therapeutics Presents HPN217 Interim Phase 1 Data at the IMS Annual Meeting
Target dose of 12 mg demonstrates robust early activity and manageable tolerability profile:
– 63% ORR, 16% cytokine release syndrome (CRS), No ICANS –
Phase 1 data set, including recommended Phase 2 dose(s) (RP2D), to be presented by the end of 2023
SOUTH SAN FRANCISCO, Calif., Sept. 28, 2023 (GLOBE NEWSWIRE) -- Harpoon Therapeutics, Inc. (NASDAQ: HARP), a clinical-stage immunotherapy company developing novel T cell engagers, today announced the presentation of interim data for the 2.15 to 12 mg target dose cohorts from its Phase 1 clinical trial evaluating single-agent HPN217 in relapsed/refractory multiple myeloma (RRMM). HPN217 targets B-cell maturation antigen (BCMA) and is based on Harpoon's proprietary Tri-specific T cell Activating Construct (TriTAC®) platform designed to recruit a patient's immune cells to kill tumor cells. The data will be presented at the 20th International Myeloma Society (IMS) Annual Meeting in a poster presentation on September 28, 2023 in Athens, Greece.
As of the data cut-off on August 12, 2023, 97 patients were treated with HPN217 across 14 dose escalation cohorts. The trial enrolled heavily pre-treated patients, of whom 65% were penta-drug exposed and 20% had been treated with BCMA-targeted agents.
In patients at the 12 mg target dose (N=19), a manageable tolerability profile was observed with low rates of CRS (16%, all G1-2) and no ICANS. Additionally, robust, early clinical activity (63% ORR) was seen. Treatment remains ongoing in 7 responders, while the median responder time on treatment continues to mature, currently 8.3 months (6.0-17.3+).
For the earlier 2.15 mg to 6 mg target dose cohorts, the median responder time on treatment was 21.8 months (10.4-27.5+), with several remaining on treatment with a sustained response.
"The early and durable responses at the 12 mg cohort of HPN217 in an RRMM patient population that has undergone extensive prior treatments are encouraging. The 63% overall response rate at the target dose level is strong, with many responses occurring early and deepening over time," said Luke Walker, M.D., Chief Medical Officer for Harpoon Therapeutics. "The low frequency of CRS and compelling efficacy continue to support late-stage development of HPN217 and its potential to become a differentiated option for patients."
Enrollment in dose escalation cohorts up to 24 mg is complete, and the maximum tolerated dose (MTD) has not been reached. Follow up is ongoing, and the evaluation of regimens will inform the choice of a recommended Phase 2 dose(s) at year end 2023.
The poster will be available on Harpoon's website following the presentation.
For more details about the IMS Annual Meeting, please visit:
https://events.jspargo.com/ims23/Public/Content.aspx?ID=102336&sortMenu=101000
About Harpoon Therapeutics 
Harpoon Therapeutics is a clinical-stage immuno-oncology company developing a novel class of T cell engagers that harness the power of the body's immune system to treat patients suffering from cancer and other diseases. T cell engagers are engineered proteins that direct a patient's own T cells to kill target cells that express specific proteins, or antigens, carried by the target cells. Using its proprietary Tri-specific T cell Activating Construct (TriTAC®) platform, Harpoon is developing a pipeline of novel TriTACs initially focused on the treatment of solid tumors and hematologic malignancies. Harpoon has also developed a proprietary ProTriTAC™ platform, which applies a prodrug concept to its TriTAC platform to create a therapeutic T cell engager that remains inactive until it reaches the tumor. Harpoon's third proprietary technology platform, extended release TriTAC-XR, is designed to mitigate cytokine release syndrome. For additional information about Harpoon Therapeutics, please visit www.harpoontx.com and follow us on Twitter and LinkedIn.
Cautionary Note on Forward-looking Statements
This press release contains forward-looking statements within the meaning of the Private Securities Litigation Reform Act of 1995. Words such as "continue," "further," "remain," "will," and similar expressions (as well as other words or expressions referencing future events, conditions, or circumstances) are intended to identify forward-looking statements. These forward-looking statements are based on Harpoon Therapeutics' expectations and assumptions as of the date of this press release. These forward-looking statements involve risks and uncertainties that could cause Harpoon Therapeutics' clinical development programs, future results, or performance to differ significantly from those expressed or implied by the forward-looking statements. Forward-looking statements in this press release include but are not limited to, statements about the expected progress, results, and plans pertaining to Harpoon Therapeutics' clinical trials, including timing, scope, design, enrollment plans and interim results of clinical trials and the safety and tolerability profile of product candidates, the association of interim clinical data and preclinical results with potential treatment outcomes, achievement of future milestones and other statements that are not historical fact. These and other factors that may cause Harpoon Therapeutics' actual results to differ from those expressed or implied in the forward-looking statements in this press release are discussed in Harpoon Therapeutics' filings with the U.S. Securities and Exchange Commission, including under "Risk Factors" in Harpoon Therapeutics' quarterly report on Form 10-Q for the quarter ended June 30, 2023, and future filings by Harpoon Therapeutics. Except as required by law, Harpoon Therapeutics assumes no obligation to update any forward-looking statements contained herein to reflect any change in expectations, even as new information becomes available.
Contact
Investors and media:
Ana Kapor
Harpoon Therapeutics
akapor@harpoontx.com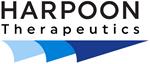 Source: Harpoon Therapeutics Inc.